Spanish Exchange Trip 2023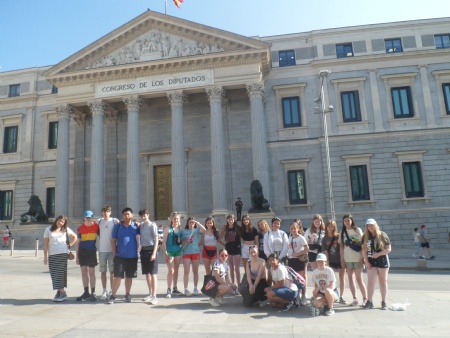 11 GCSE students from St. Mary's had the opportunity of taking part in an exchange with our partner school in Madrid, Colegio Aristos. They travelled to Spain accompanied by two teachers from the 15 to the 21 of June. During their time in Spain, they learned to make potato omelette and how to dance Flamenco. They also went on an excursion to the beautiful city of Toledo. They walked through the old quarter of Madrid and visited the Prado Museum and other important buildings such as the Cathedral of St. Isidore. They took many photos of the Royal Palace and gardens and many other monuments in Madrid. One of the highlights of the trip was the day spent in the amazing Warner Bros Theme Park where they rode roller-coasters and many water rides.
As part of the exchange, they hosted a Spanish student at home from the 21 to the 27 June. The guest students were taken to Belfast where they saw the city on an open-roof tourist bus, visited Titanic and Ulster Museums, Botanic Gardens and Victoria Square. They also had a tour of the Walls of Derry, witnessed Irish Music and Dancing sessions and attended classes in school where they learnt how to make potato bread, Irish, Irish history and Irish sports.
It was a wonderful experience for both our students and the Spanish students which they will never forget. Life-long friendships were formed.